The hashtag #gymweirdos has received nearly 2m views as women covertly record their experiences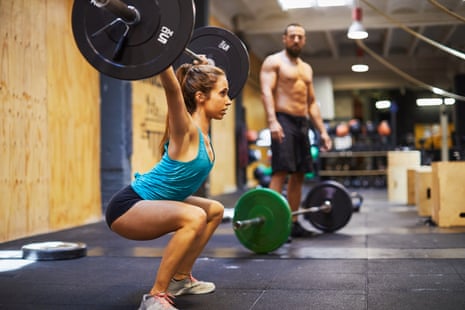 Women have long been hyper-vigilant about unwanted male attention at the gym. But before smartphones, the sense they were being stared at was more of a feeling than a certainty.
Now catching perceived offenders in action has become its own sport on TikTok, with women covertly leaving their phones on record and then watching the resulting video to see who was staring at their behind while they were doing squats.
On the app, the pitiless hashtag "gym weirdos" has over 1.9m views, with videos showing men attempting to flirt with or pick up women who just want to get through their sets unbothered.
Gina Love is one such TikTok detective. She goes to the gym at least four times a week, because the endorphin boost that comes from a good deadlift counteracts the daily stress of life.
"Watch this creep come over to my personal bubble while doing [Romanian deadlifts]," Love wrote in the caption of an encounter she posted on TikTok, which was liked over 50,000 times. "The gym was practically empty, and so many corners to be in and he chose this one." In the clip, the man stands directly behind Love as she lifts dumbbells before deciding to leave.Allow TikTok content?
This article includes content provided by TikTok. We ask for your permission before anything is loaded, as they may be using cookies and other technologies. To view this content, click 'Allow and continue'.Allow and continue
"I would say I experience creeps 15% of the times I work out," Love, who is 29 and lives in Atlanta, told the Guardian. This usually manifests as a man staring at her for an "uncomfortably long" amount of time. "It's almost like they're trying to undress you in their heads," Love said.
Some might say inappropriate looks or creepy comments are as much of a feature in the gym for women as broken workout equipment or crowds. One study from 2021 found that 76% of women feel uncomfortable exercising in public due to harassment. In another survey from Run Repeat, 56% of women reported facing harassment during their workouts.
Love sometimes leaves the gym when the staring is too much. "It makes me feel disgusted, anxious and my survival instinct kicks in," she said. "I'll typically cut my workout short because I can't get back into feeling comfortable with that person around me." Love swaps stories with friends: one recently told her that a man had tried to secretly record her during a workout.
Comments on her videos, and others posted by women with similar experiences, elicit different reactions. Some commenters agree that gyms feel like predatory spaces. But others dismiss the women's complaints as overreactions.
"It's not your personal space," one person wrote in reply to Love's clip. "WTF is a personal bubble at a public gym?" another asked.
Joey Swoll is a male trainer and TikToker who calls himself the "CEO of gym positivity". He frequently reposts these videos with commentary on gym etiquette, either exonerating the so-called "creep" or validating the frazzled woman's feelings to his 6 million TikTok followers.
Last month, an influencer named Jessica Fernandez posted a video from the gym showing a man glancing in her direction as she worked out. "I hate this, I hate when there's weirdos," she said under her breath in the clip. "Feral, feral, feral, like fucking feral." The man then asked her if she needed help with a weight, and she declined.
Swoll responded to her video, writing: "Women are harassed in gyms and it needs to stop, but you are not one of them. An act of kindness or a glance does not make you a victim." The video was liked over 812,000 times, and Fernandez ultimately apologized for her post. Swoll and Fernandez did not respond to requests for comment.
Why can't men mind their own business at the gym? Natalia Mehlman Petrzela, a historian and author of the new book Fit Nation: The Gains and Pains of America's Exercise Obsession, said that gyms had long been gendered spaces. Historically, separate men's and women's gyms existed, or health clubs hosted intentional "ladies' days".
"When I hear about men ogling or hitting on women at the gym, I am often reminded of how for decades, women exercising was considered a kind of sexy spectacle," Petrzela said.
In June of 1972, for instance, New York held its first Mini-Marathon, which was televised and hosted by the hosiery brand L'eggs. Playboy Bunnies flanked the starting line of the race. "It's clear from the footage that some of the male spectators were there to leer at, rather than cheer on, the women's athletes," Petrzela said. Even as second-wave feminism of the 1970s and 80s encouraged women to sign up for workout classes en masse, late-night hosts constantly joked about watching Spandex-clad personalities like Debbie Drake or Jane Fonda gyrate on TV for something "other than the exercise".
In the 1980s, after co-ed gyms became the norm, columnists wrote articles about how gyms were "the new singles bars", a concept that powered the 1985 romantic comedy Perfect, starring John Travolta as a reporter who falls for a perpetually sweating health coach, played by Jamie Lee Curtis.
The majority of today's gyms are co-ed, and the idea of going back to women-only workout spaces remains controversial. Last year, Connecticut's supreme court ruled that these areas violated a state law banning discrimination based on gender. Despite this, certain sections of the gym tend to be unofficially sex-segregated.
"Women are overrepresented in the studios and on cardio equipment while men disproportionately flock to the weight floor," Petrzela said. "But the boom in popularity of women weightlifting, and thus being more present in a part of the gym that has traditionally been more male, means that there are probably more instances of those unwanted advances."
This means that women like Love, who find so much joy in working out, have to negotiate with their sense of safety any time they want to head to the gym. "This behavior from men encourages me to work out at the earliest time possible, typically when the gym opens," she said. "I tend to go with a friend because creeps are more timid when there are two girls together. I try to keep my clothing incognito: oversized hoodie and a hat. It's sad that girls can't be comfortable wearing whatever they please to work out without being harassed."
Article Source: https://www.theguardian.com/lifeandstyle/2023/feb/01/gym-weirdos-tiktok-videos-women-recording-sexual-harassment