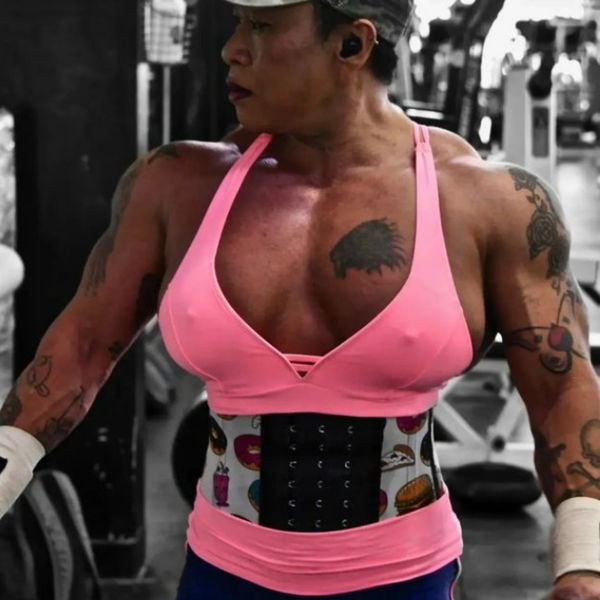 After the recent demise of an IFBB Pro bodybuilder Amy Richardson, the bodybuilding world and her fans are in distress. The female athlete had contracted pneumonia and the flu during her time in Las Vegas last month, where she was attending the Olympia. She was ill for some time and also developed rashes all over her body. Although not entirely clear, she eventually succumbed to her declining health at the early age of 49. The bodybuilding world at large reacts.
Her sponsor, CJ's Elite Suits, shared a heartfelt tribute to her in an Instagram post. The world at large learned about this tragic outcome and several of her fans reacted by pouring their hearts out over the comments.
Amy Richardson was a woman's physique bodybuilder who left this world at an unreasonable age and under unknown circumstances. This sudden news was shocking not only to her husband, family, and other near ones but also to the many followers she had garnered over the years. Here's how they reacted.
"💜🙏🏼may she rest in peace, my condolences 💐"
"❤️❤️❤️love her !! May her soul rest in peace and she will be missed 😢"
"😢 may she rest in power 🙏🏼"
"So So Sad! 💔"
"So shocking. So sad"
"My condolences. Way too early for her to be gone 😭❤️"
"❤️ She was an amazing human! 😢"
"So so sorry to hear this💔 My prayers to Ken and their family 🙏🏽"
Almost all of them were devastated by the news, more so because of the amazing human qualities she possessed. Richardson often shared sweet memories with her husband who took care of her in during the period she was ill. He too was left devastated and penned an emotionally drenching note.
Richardson's husband was heartbroken at this sudden outcome
Kenneth Richardson, Amy Richardson's husband, wrote on his Facebook account, "Today my life has been shattered….. I am so so grateful for all the love & affection coming from around the world. Everyone has been asking what they can do to help me thru this heart-wrenching time……… She is one of a kind. My Rock…My heart…my soul…my love." He attached a video of Richardson sharing a laugh with him.
Richardson has consistently competed at IFBB competitions since 2021, including the Tampa Pro, Omaha Pro, Daytona Pro, Pittsburgh Masters, etc. She has almost consistently ended up in the Top 10 of all of them, and her bodybuilding career was thriving even as she neared age 50.
She is also one of many bodybuilders who died under strange or shocking circumstances, including Paul Poloczek of Poland, who died in his sleep in October last year. The sudden illness that Richardson had contracted eventually took her life despite all prayers. May she rest in peace.
---