Hilary Grant pushes aside a moment of weakness to work on her future self.
You know that dreaded moment you have when you're contemplating going to the gym or not? When you think it's a better idea to take a hiatus from the horrendous treadmill to stay cozy up in bed and indulge in your contemporary Netflix binge. We've all been there, and Hilary Grant can resonate. Hilary Grant is a natural bodybuilder figure competitor and consecutive Figure Masters Natural Olympia champion – 2020 and 2021. She also won the Figure Classic division this year (2021). On Instagram (IG), Grant said:
"9 OUT OF 10 DAYS I PLAY THIS LITTLE GAME WITH MYSELF… IT'S THE "YOU'RE GOOD, YOU DON'T NEED TO GET ON THE TREADMILL TODAY" GAME. WIMPY ME IS USUALLY QUITE PERSUASIVE. SHE ALWAYS REMINDS ME OF WHAT I HAVE ACCOMPLISHED AND HOW I "DESERVE" A REST DAY."
Grant goes on to say that when this negative thought creeps in, her "determined me" kicks in, and she's reminded of all the goals she wants to accomplish. She's then propelled into her "future me" mindset with no issues doing the work. She stated,
"NO MATTER HOW GOOD OR NOT GOOD WE HAVE GOTTEN, WE SHOULD ALWAYS BE WORKING ON OUR FUTURE SELVES."
Admittedly, Hilary Grant didn't get on her treadmill until a little later than anticipated, but she did overcome her temptation to omit the gym. Additionally, she hit a new personal record during her high-intensity interval training (HIIT) workout.
It's safe to say because of Hilary Grant's determination and mental fortitude, she's been able to accomplish a lot in natural bodybuilding this year, including receiving the Pro Female Athlete of the Year award at Natural Olympia.
Hilary Grant and Motivation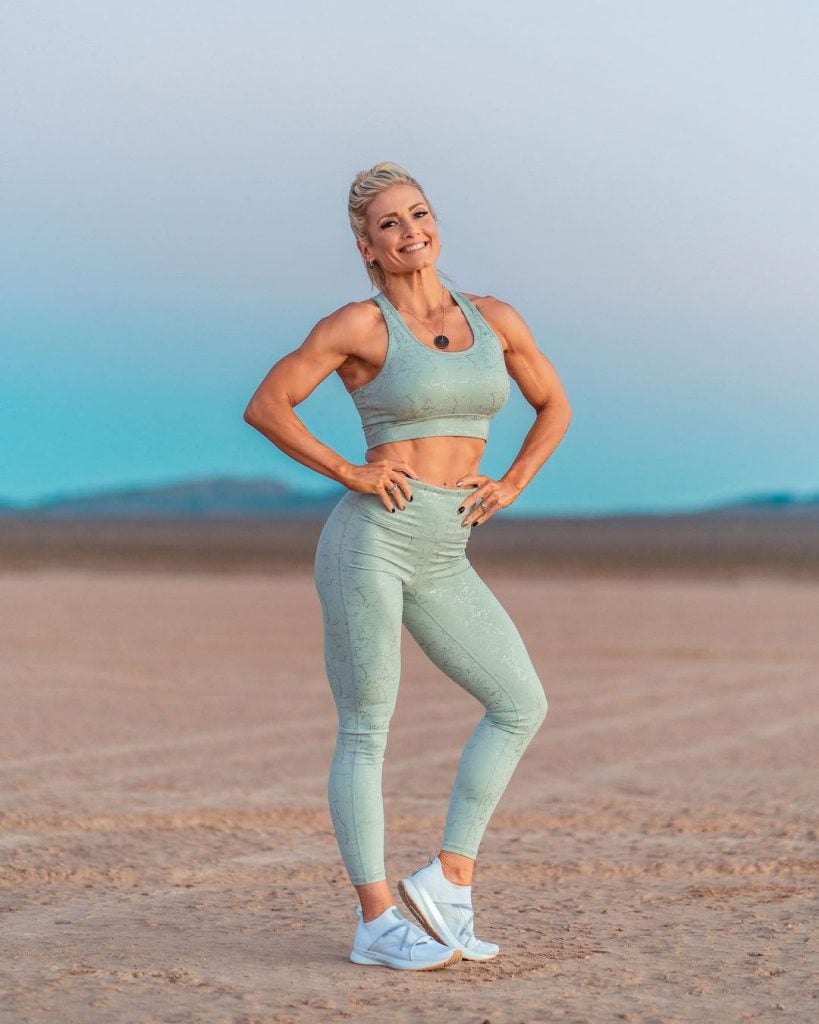 If you scan Hilary Grant's IG page, you'll quickly see how inspirational she is. She's posted on taking action, saying yes, and enjoying the process. In summary, Grant believes taking action and refusing to give up is imperative for success. Moreover, opportunities arise from saying yes, and the process is part of the road to greatness.
Business and Ultimate Goal
Hilary Grant runs family businesses Optimal Health Systems (OHS)and Gains In Bulk (GIB). Both are supplement companies, except OHS focuses on nutritional supplements for overall health and GIB's niche is bodybuilders and athletes.
As claimed by Gila Herald, Grant expressed that she's happy with her wins in the Figure Masters division. Still, her ultimate goal is to win Natural Olympia in the Figure Open division. Figure category has three subdivisions – Masters, Open, and Classic. According to Gila Herald, Grant says that the Figure class is her favorite division because the judges score you on symmetry – you can't be too big or shredded.
Final Word
Even the greatest athletes can't escape their minds playing tricks on them. But what separates them from the heard is how they handle it. How we feel and what we do are two separate things. Showing up despite your emotional state is what many champions overcome to get where they are. So next time you hear the whispers of the weak-minded archnemesis of the strong-minded, remember your goals and take the actions necessary to put you one step closer to grasping them, regardless of how you feel in the moment.
Female Muscle would like to congratulate Hilary Grant for having the first-place finish in her second consecutive year in Figure Masters at Natural Olympia. Also, for receiving the Pro Female Athlete of the Year award! 
Do you need dating advice or want to get Lori's book on meeting and dating athletic women, here is the Amazon Link: How To Meet, Date and Seduce Athletic Women: Meet, Date, Seduce Female Bodybuilders- Fitness Models- Female Wrestlers & Divas, MMS Fighters, Bikini Competitors, Any Athletic Woman!
Article Source: https://generationiron.com/natural-bodybuilder-hilary-grant-kicks-wimpy-me-to-focus-on-future-me/