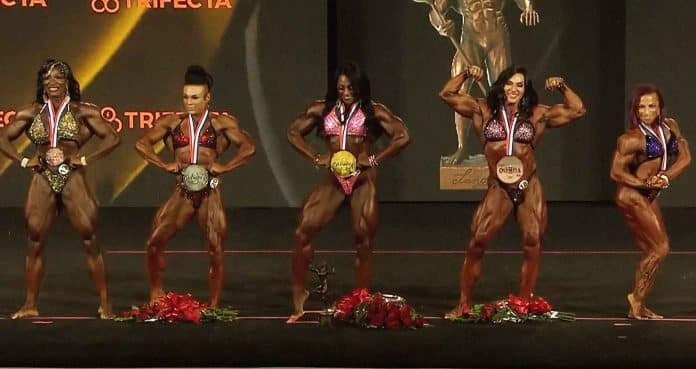 Andrea Shaw completes the three-peat as Ms. Olympia champion!
The Ms. Olympia competition was back for its third year since a short hiatus and Andrea Shaw was looking to complete the three-peat.
That is exactly what she did as Shaw continues to prove that she is the one to beat in the division. Shaw came in with her usual, incredible conditioning and put on a show for the crowd.Skip Ad
The top four from the final callout during prejudging finished at the top of the standing Friday night. Angela Yeo put on quite a show during her first Olympia competition. She impressed during prejudging and was able to finish as the runner-up to Shaw. Helle Trevino finished third while Margie Martin earned fourth place in her final Olympia competition.
When looking at the competitors vying for Ms. Olympia, this competition could not have been a bust. It was extremely exciting from the start and the full results have been announced. Below, you can find the full results, along with the previous winners and an official score card.
2022 Olympia Ms. Olympia Results
First Place – Andrea Shaw ($50,000)
Second Place – Angela Yeo ($20,000)
Third Place – Helle Trevino ($12,000)
Fourth Place – Margie Martin ($7,000)
Fifth Place – Branka Njegovic ($6,000)
Sixth Place – Michaela Aycock
Seventh Place – Theresa Ivancik
Eighth Place – Alcione Santos Barreto
Ninth Place – Chelsea Dion
Tenth Place – Michelle Jin
2022 Official Ms. Olympia Scorecard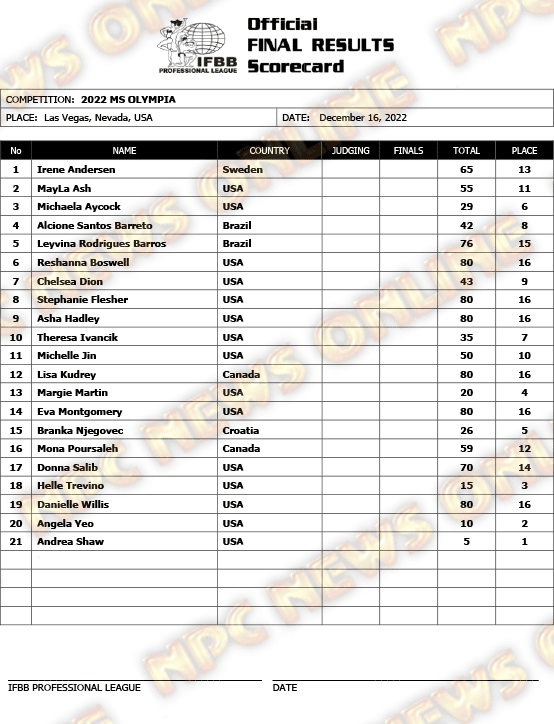 Previous Ms. Olympia Winners
2021: Andrea Shaw
2020: Andrea Shaw
2014: Iris Kyle
2013: Iris Kyle
2012: Iris Kyle
2011: Iris Kyle
2010: Iris Kyle
2009: Iris Kyle
2008: Iris Kyle
2007: Iris Kyle
2006: Iris Kyle
Article Source: https://generationiron.com/2022-ms-olympia-results/