Lindsey Vonn found herself the most adorable swimming partner while quarantining at home.
In short clips shared on her Instagram account, the athlete revealed what kept her busy during the pandemic lockdown. The videos feature her rescue dog Bear, almost outshining a bikini-clad Vonn, who was flaunting her doggie paddling skills.
Doggie Paddle
"Back to training Bear for the Olympics. He's making progress, look out @m_phelps00 🏊‍♂️ #doggiepaddle," Vonn captioned the clip above, which was posted back in 2020, during the time when everyone was on lockdown.
In the video, the ski champ can be seen sporting a black thong bikini, which showed off her sexy curves and toned muscles. The athlete joked that she was training her dog for the Olympics. Diving in the pool with a great form, Vonn bragged about her doggie paddling skills and even tagged swim champ Michael Phelps.ADVERTISEMENT
Swim Buddy
The cute duo practiced their partner swim routine and while Vonn joked about their "terrible form", followers were more than impressed with their strong bond. Bear, a Chow Retriever mix, was a rescue dog that Vonn welcomed to her pack in 2015.
Like all pet lovers, Lindsey spends a lot of time with her dogs. She travels with them and brings them to her adventures.
"Dogs are literally the best companions you could ever hope for," Vonn said in an interview, detailing that her dogs have helped her during tumultuous times.ADVERTISEMENT
Spoiled Dogs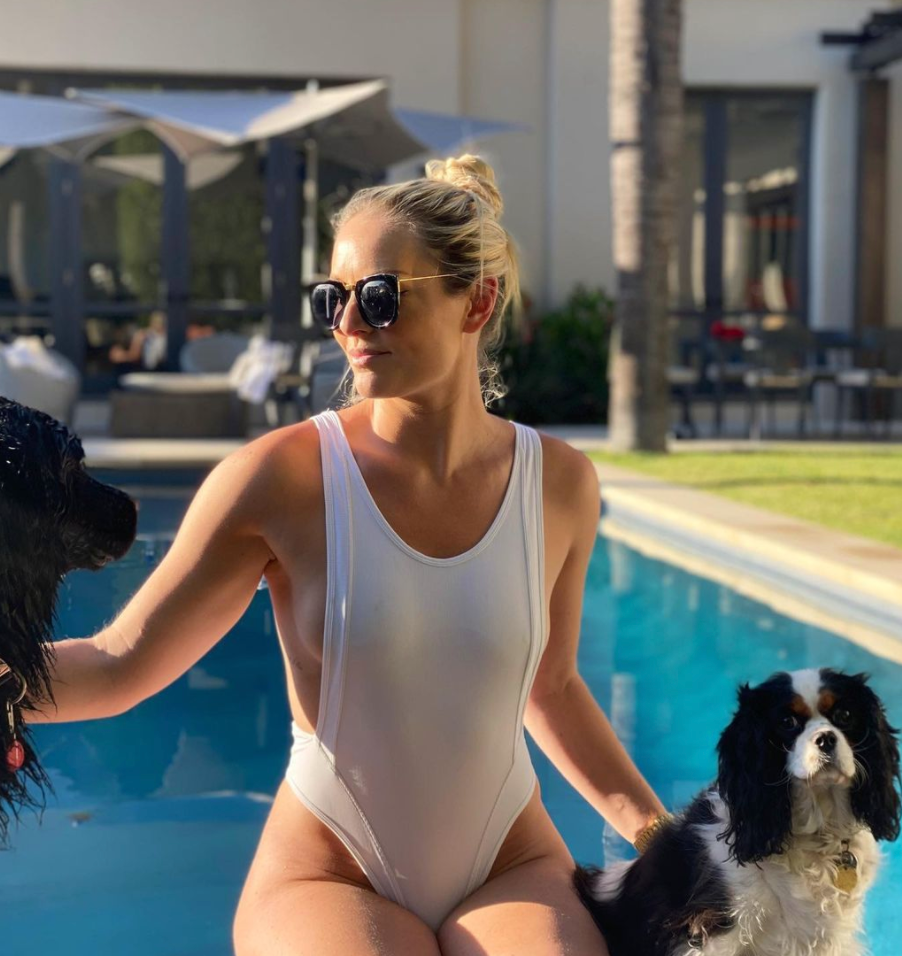 Lindsey's dogs are all rescues that are now living the good life. They even have their own Instagram account, which has over 41k followers.
The account, named after Lucy Vonn, the Cavalier King Charles Spaniel, features the adventures of the pack. From ski practices to first-class flights, these dogs are getting the A-list treatment they deserve.ADVERTISEMENT
RIP Bear Vonn
Unfortunately, Bear recently passed away from an aggressive form of cancer. Lindsey shared the heartbreaking news last month with a tearful tribute for her protector and swim buddy.
"Yesterday my beautiful boy passed away 💔 Bear was 8 years old and was my protector from the first day I rescued him. He had an aggressive cancer in his heart (Hemangiosarcoma) which was found only a few days ago. We did everything possible to save him but we lost the battle and he is no longer in pain. He was a fighter and a brave boy all the way until the end," she wrote.
"My only solace is knowing he's still protecting me, just from a different place."
If you need dating advice or want to get Lori's book on meeting and dating athletic women, here is the Amazon Link: How To Meet, Date and Seduce Athletic Women: Meet, Date, Seduce Female Bodybuilders- Fitness Models- Female Wrestlers & Divas, MMS Fighters, Bikini Competitors, Any Athletic Woman!