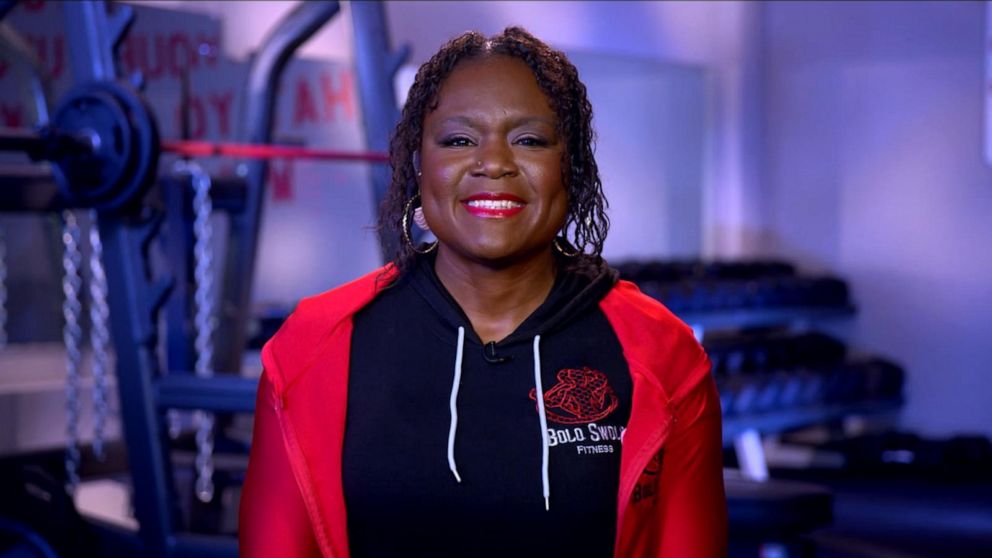 Aspiring bodybuilder wins medal in 1st competition after 20 weeks of chemo
An aspiring bodybuilder who discovered she had cancer in 2018 is inspiring others after winning a medal in her first competition after chemotherapy.
Four years ago, Erica Langley started training as a bodybuilder. It was after a workout when she first noticed a hard lump the size of a peach pit in her breast.
Initially, she thought she pulled a chest muscle while weightlifting, but when it didn't go away, she visited a neighborhood health clinic and she was sent to get a mammogram. It detected HER2-positive breast cancer in two locations in her left breast.MORE: New treatments bring hope for those with triple-negative breast cancer
According to the American Cancer Society, HER2-positive breast cancer is a type of breast cancer that "tests positive for a protein called human epidermal growth factor receptor 2 (HER2). This protein promotes the growth of cancer cells."
HER2-positive breast cancers also tend to be more aggressive than other types of breast cancer, but treatments like chemotherapy can be effective against it.
"I was scared," said Langley, who at the time was five weeks away from her first competition. "And that's when I really depended on the support of my family and close friends because just emotionally I was a wreck."
With her family and team of doctors by her side, Langley went through the fight of her life. Her treatment plan included 20 weeks of chemotherapy, followed by a double mastectomy in April 2019, intravenous targeted therapy and finally, reconstructive surgery on both breasts.MORE: New genes discovered that may increase risk for triple-negative breast cancer
Despite all she experienced, her doctors said she tackled this difficult season in her life with a positive attitude.
"Even when she was faced with a lot of challenges ahead of her, she maintained the most positive outlook," reconstructive surgeon Dr. Rebecca Garza said.
Then, in November 2020, after 20 weeks of chemotherapy and targeted therapy, Langley decided to return to the gym to train again for competition.
"I can accept, you know, giving something my all and not quite accomplishing what I set out to do, but I can't accept not trying," Langley said.MORE: Breast cancer on TV: A history of the disease's depiction throughout the years
In May 2021, after six months of intense training, Langley entered two bodybuilding competitions and placed first in one category.
Langley said she hopes her story encourages others to listen to their bodies and get checked for cancer.
"Don't be naive," she said. "Prior to this, I was working out, I didn't abuse my body, I didn't drink excessively or do drugs. It can happen to anyone."
Langley joined "Good Morning America" live on Monday and shed more light on what helped get her through this experience.
"I had to rely heavily on my faith and my family. Without those two things I couldn't have made it through," she said. "There were times I wanted to cry and go into a shell and my family would say, 'OK, you have five minutes. Do what you need to do' — At the end of the five minutes we'll focus on the positive. That's what really helped to push me through."
Her hope was to help reach others with her story and was "speechless" when "GMA" surprised her with a full spread feature in a future issue of Good Housekeeping.
"I never thought that my story would reach as many people as it is and that it could help others," Langley said holding back tears. "When I was going through my ordeal, I didn't understand what the purpose was. You know, 'why me? I'm healthy. I'm doing what I'm supposed to do, taking care of my body.' It wasn't until after I made it through my struggle and my doctor at the University of Chicago Medicine, Dr. Hahn, asked me to share my story. I said, 'OK, maybe that was my purpose.' I had no clue that my story would reach so many people. If it helps anybody out there, I'm just so honored that I can be a tool to help others."
Langley continued, thanking her family, friends, doctors, pastor, and "so many people that helped push me to this point and continue to do so" recognizing that "by no means do I stand here by myself, so thank you."
If you need dating advice or want to get Lori's book on meeting and dating athletic women, here is the Amazon Link: How To Meet, Date and Seduce Athletic Women: Meet, Date, Seduce Female Bodybuilders- Fitness Models- Female Wrestlers & Divas, MMS Fighters, Bikini Competitors, Any Athletic Woman!