Let me tell you how I envision my healthy path in 2016 since we started talking about yours. I really upped my game in a smoothie department and I'm shocked how fun it is to whip up different smoothies! Like this pina colada protein milkshake with Nature's Path Coconut Chia granola, frozen pineapple chunks and Greek yogurt…So-so-so good and who would think to add granola to a smoothie, right?! But it totally works making one heck of a healthy milkshake high in fat, fibre and protein without the protein powder.
And it is delicious! Look how frothy it is! The drink came out pretty light in texture that is why I called it a milkshake and not a smoothie. Drinking it brought fond memories of our trip to Las Vegas back in 2009. It was our one and only time me and Alex had lunch at a retro diner in a mall across the Venetian hotel. Drinking milkshakes, eating french fries and burgers. Yes, we should do it again because moderation is on my healthy path in 2016 as well.
So, I have been making a ton of smoothies like healthy nutella, mocha, wake up and even with various pure food extracts like almond and lemon. Majority of recipes goes to my yet secret project I will be revealing soon. However, one delicious breakfast smoothie will be posted before the end of the month on iFOODreal. You will love it – it will replace your breakfast.
Just like this pina colada protein milkshake can be made for breakfast. Essentially, you are drinking what you could be eating – Greek yogurt with pineapple and granola. Perfect for the car/train ride, or a couch.
Nature's Path organic granola is sweetened with pure cane sugar, just the right amount. Which I do not mind if mixed with other non-sweet ingredients. Let's face it – you add sugar in some form or another to any sweet meal or drink, right?! It is all about quality and quantity of sugar we use. Again, moderation is key for my healthy path this year. I'm so done with torturing myself with bland foods and constant exercise.

Speaking of exercise, I decided to make 2016 comfortable for my body in that department too. I can tell I'm growing…I quit fitness classes I did for 6 months because I didn't fully enjoy them or had time for. I went back to working out with Turbofire and Chalean Extreme DVDs like I did back in 2011-2014. It worked for me and then I got bored, but now that I tried fitness classes I know what I like. I do not like gym, so I do not force myself to show up there either.
In addition to butt-kicking workouts, I LOVE walking. I walk dark winter nights too and recently got Alex into it as well. He comes if he isn't tired after gym and work. I stay on well lit streets for safety reasons. Fresh air does magic to my mind and I come home happier and relaxed. When you work from home getting out of the house is a must. Somehow walking inspires my creativity in the kitchen big time. Things really fall into place for me with a breath of fresh air and a beautiful mountain view.
We also do a lot of skiing in winter and biking and hiking in warmer months. And does going to hockey rinks 5 times and grocery shopping 3 times per week count as an exercise?!:) Getting in and out of hockey is a 2 hour procedure on its own and shopping with 2 kids…I bet most of you know.
What is your healthy path this year? Seriously, let me know below in comments. Don't be shy! No matter what it is, you do have a vision for healthy you, right?! I really want to know what inspires and moves you. You can also enter Nature's Path contest here by letting them know as well. This good stuff to be won.:)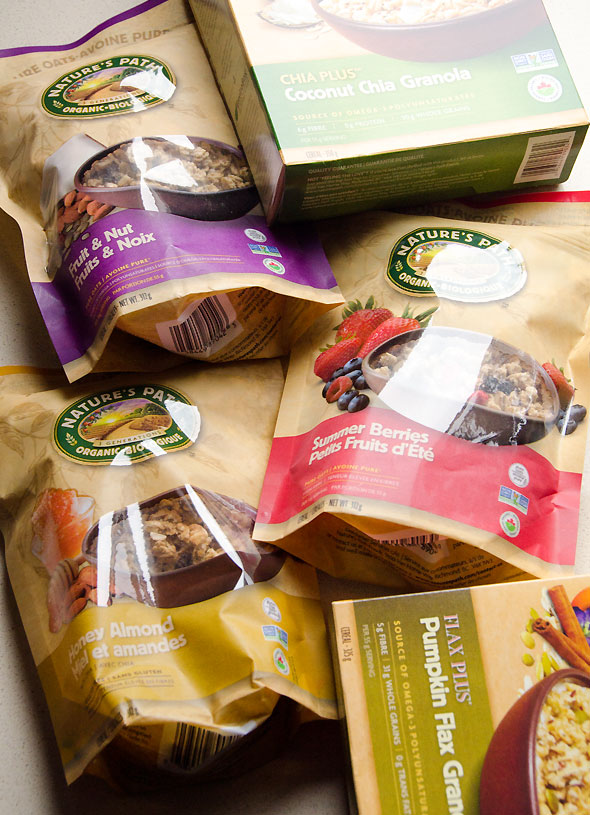 Ingredients
2 cups almond milk, unsweetened
1 1/2 cups pineapple chunks, fresh or frozen
1 1/2 cups Nature's Path Coconut Chia Granola
1/2 cup Greek yogurt, plain*
Directions
Combine all ingredients in a high speed blender and process for 3-4 minutes or until smooth consistency. Enjoy immediately or refrigerate for up to 24 hours and stir before serving.
Notes
*Add more for higher protein content.
Nutritional Info
Servings Per Recipe: 2
Amount Per Serving:
Calories: 399.5
Total Fat: 15.3 g
Cholesterol: 3.8 mg
Sodium: 257.5 mg
Total Carbs: 54.7 g
Sugars: 23 g
Dietary Fiber: 8.4 g
Protein: 12.0 g
WW Points+: 10